1. Pick a sponge tip eyeshadow brush.
With the skin getting oily during the day, your eyeshadow tends to crease into the fold, or transfer to your lower lids. to keep your eye make up in place, its not the type of eyeshadow or primer, its the brush. Fluffy synthetic brushes are the most prevalent eyeshadows brushes out there, but they cause shadow to dissipate faster. The sponge tip presses onto your skin instead of swishing the pigment.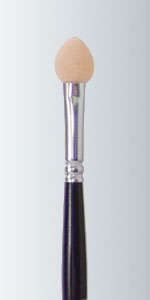 2. Wear the right deodorant.
Look for an antiperspirant whose primary active ingredient is aluminum, as acts as a plug in the sweet glands, blocking sweat.
3. Keep a dry shampoo close.
Being inside with a air conditioner will cause your skin to get dry which triggers more oil production. Spray your hair with a little dry shampoo in the middle day to feel refresh and keep that oily shine away.
4. Prime before you apply a lick of make up.
If its one thing all make up artist agree on its 'not to prime is a crime'